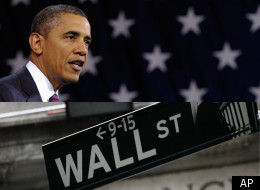 "President Barack Obama has been abandoned by the world of finance. Over the course of the 2012 election, his presidential campaign has received about one dollar in donations from the financial sector for every five dollars given to his top competitor, Mitt Romney, according to figures provided by the Center for Responsive Politics (CRP). During the final three months of 2011, however, the margin has widened dramatically".--Huffington Post


Well the less money Obama receives from Wall Street, the less he feels obligated to work on their behalf. And maybe his next term will solely be about the average American folk. It has been long overdue. Wall Street knows which candidate they should support. It's the wealthy business guy who has made his money by playing on Wall Street. That individual is not President Obama.


This is a very important campaign. I think the American people know which candidate, without a doubt, 100%, DOES NOT have their back.


Now the Democratic Party should not be flustered by this. This means they have their work cut out for them; they have to get out there, hit the grass roots campaigning hard, so they can get the Average American people, to support President Obama. But they have to find measures that will revitalize his campaign. Because there are Americans that are way too frustrated to vote. Some Americans feel that Obama has been playing way too much in the middle and he is too moderate. He needs to look at second chance options and amnesty for people who have made mistakes. Everyone makes mistakes or bad financial decisions, even the rich. If Wall Street is important enough to this economy, to bail out, then the American people should be too. I don't think Americans are asking Obama to write them a blank check. But they are asking their president to be fair, to look at matters with reason and show some compassion. No Republican candidate that is currently running has seemed to exemplify compassion. How could they, when they are lying in the bed and playing rounds of golf with Wall Street?