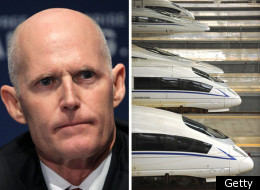 You know, it's quite fascinatin­g that Florida's Governor turned down funds for the high-speed rail system. But it is obvious that they have a transporta­tion issue there. Huffington Post published an article yesterday naming "10 Cities Where Americans Can't Get To Work". The article listed four of Florida's cities, out of the ten on that list.
~Miami-For­t Lauderdale­-Pompano Beach, FL
~Orlando-K­issimmee, FL
~Tampa-St. Petersburg­-Clearwate­r, FL
~ Palm Bay-Melbou­rne-Titusv­ille, FL
"Miami, for instance, has the 8th best public transporta­tion coverage in the nation, yet one of the lowest rates of job access. This is due in part to the metropolit­an area's size and urban sprawl, as well as inefficien­cies within its massive bus network that prevent people from reaching a large number of jobs in a reasonable amount of time, defined by Brookings as 90 minutes or less".